This post lists all the entries made on this series
Released in: March 2007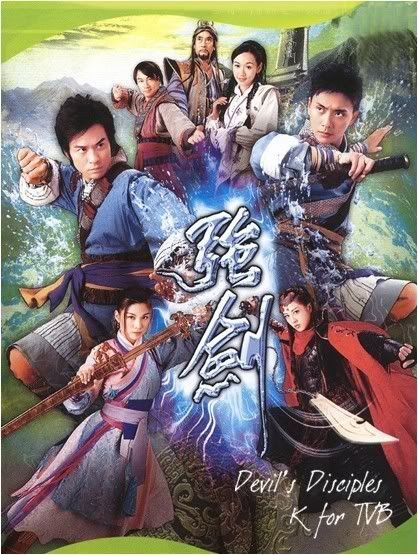 Entries: contains episodic thoughts, spoilers and screen captures
Series Info & Synopsis
Episode 1-2: Bosco, Bernice, Kevin, Wayne appears. Enter the School of Sacred Swords.
Episode 3: Sharon appears
Episode 4-5: The green creature appears. The disciples undergo training.
Episode 6-7: Disicples's day out. The Blood Shadow clan's arises. Shirley appears.
Episode 8: Competing to be selected. Sharon's past revealed.
Episode 9-10: Shirley saves Kevin. Kevin tries to rescue his mother.
Episode 11: Kevin's mother's story revealed! The Blood Shadow Clan's attack!
Episode 12-13: Good bye Kevin! Wayne gets poisoned.
Episode 14: Bosco's true identity revealed! Accepting his past..
Episode 15: Sharon saves Kevin. Bosco acts strangely. Bernice's father finds out the truth!
Episode 16: Bosco spends time with Sharon.
Episode 17: Bosco sees Bernice's father's true nature. Wayne's death.
Episode 18: Enter Sky One Tribe. Shirley sleeps with Bosco.
Episode 19: Bernice, the new leader!
Episode 20- Final: Sharon's death. The final battle.
Overview : Thoughts on the overall series. Review-like.
Extras:
Drawing: Sharon and Bosco
Opening Screencaptures
Destined to meet? When Bosco and Shirley's characters were young- how they met
Themesong and Winamp Skin Downloads
Moments of Comparison: Devil's Disciples/The Seventh Day
9 Responses to "[Devil's Disciples] 強劍"